MFS100
Fingerprint scanner is based on optical sensing technology which efficiently recognizes poor quality fingerprints. Mantra MFS100 fingerprint scanner is a high-quality USB fingerprint sensor for fingerprint authentication identification and verification function.Fingerprint Scanners is a biometric device for authentication and identification through fingerprint recognition module which has superior execution, precision, toughness based on the fingerprint reader.
Fingerprint Reader or Scanner is very safe and easy to use device for security compared to remembering the password that is vulnerable to fraud and difficult to keep in mind. Utilize USB Fingerprint scanner with our biometric software for verification, identification and authentication functions through fingerprint can act like computerized passwords that cannot be misplaced, overlooked or stolen.
Our STQC certified fingerprint scanner is made of hard optical sensor which is resistant to scratches, impact, vibration and electrostatic shock.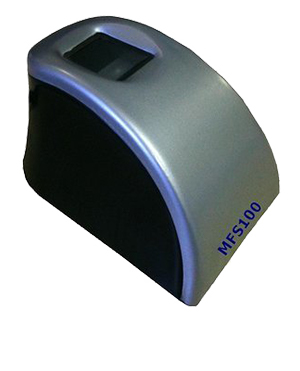 New Mantra MFS 100 device supports almost each and every aadhaar based applications as under:
AEPS payment system.
Digital Signatures (Sify, emudhra, ncode, capricorn)
Fresh CSC registration.
Jeevan Pramaan on mobile device (Tested on Xiaomi Redmi Note 4). On PC not working as of now, Will be compatible shortly on PC too.
Working with BSNL and Aircel eKYC (As mentioned on their apps).
It will not work for any other telecom sim activation. This is unlocked version and for other telecom sim activation, locked versions are used.
To use this bio-metric fingerprint scanner
1. Attach the device at back side of your PC and
2. Install the required driver and supporting files from the below link: https://goo.gl/XuL9GF (Google Drive Link)
Or
https://goo.gl/FAwObc
For further details/ technical help/ our other products & services, contact us.